The 18th Waterfront marathon sponsored by Scotia Bank will be held on October 22nd (Sunday).  The event will consist of a 42 km full marathon, a 21km half marathon and a 5 km run.  For those who prefer to walk, there are courses of 21 km and  5 km as well.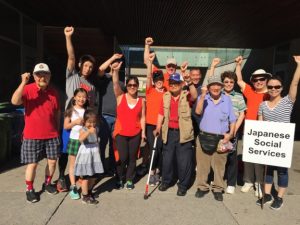 JSS joined this event in 2014 as one of our fundraising activities, and many Board members, staff, volunteers and supporters have been running/ walking and have raised money successfully. If you are one of those sports enthusiasts who want to keep in shape, please participate in this marathon and/or if you would like to help JSS's work by pledging money, please log into the site below.
https://www.dropbox.com/sh/3w3s5ruoqnwmn2n/AACYY1WjvBNMlolE_GUdJvjza?dl=0&preview=2017+STWM+Scotiabank+Charity+Challenge+Participant+Registration+Guide.pdf
When the site is open you can click Register, then you click Canadian runner registration in Raceposter. You enter your e-mail address and create your own password (if you have not done so before), and proceed according to the questions.  The name of the organization you want to run and support is Japanese Social Services, so please pick this name。For this, you are asked to put Pin Code.  The Pin Code for JSS is as follows.
Marathon  (Full and Half)     17JSS42K
5K (walk/run)        17 JSS5K
5K with Stroller     17JSS5ST
The last column is Submit Order and when you push this bottom, your registration will be sent to the organization and you will receive the confirmation # right after your registration and a receipt of your payment, but JSS will issue an official tax saving receipt for your payment later.  (for the donation of $10.00 and over)
We hope to see you all on October 22 (Sunday).
Junko Yamamoto
Fundraising Chair,
Japanese Social Services