By Haruo Sato
Pastor for Japanese speaking congregation, Japanese Gospel Church of Toronto
My name is Haruo Sato, a newly appointed board member of JSS.  I am a Japanese speaking pastor at the Japanese Gospel Church of Toronto (JGCT).  I have been a pastor for more than 12 years at JGCT.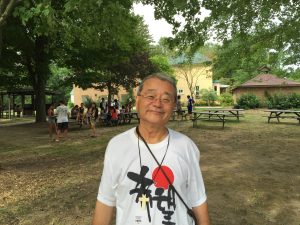 During my ministry at JGCT, I have been helped by the counsellors of JSS.  As a church we do spiritual care but some people who have problems in the legal and mental areas may need counselling.  We have asked them to contact  JSS for their help.
Our church is one of places JSS places donation boxes for the Holiday Drive.  We also give some names of people who needs these gifts.  The receivers are very happy to have Japanese food items and other gifts.
There are native Japanese people who have troubles in their daily lives in Canada.  They are not able to handle their problems by themselves because of a language handicap.  JSS is giving great joy to those people who need help.
I was really inspired by the work of JSS, and I attended the AGM again this year.  I was asked to be a board member and I accepted it.
I do not think I can help a lot, but I want to do whatever I can do to help those Japanese people who are in trouble and need help.