By Yumiko Katuya, Ceramic Artist and Tea Ceremony Instructor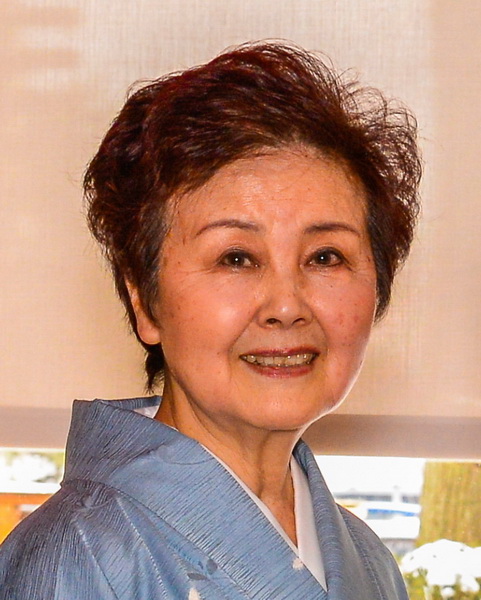 My high school had a class on etiquette. The program included tea ceremony for the serving and drinking of Japanese tea. Most of the etiquette taught in the class I had already learned at a wedding facility so they were familiar to me. I used to be an apprentice as a female attendant at Shinto wedding ceremonies, which spurred my interest in proper manners. I do not remember the details of what I did in the class back then but I certainly looked forward to having sweets and tea.
However, after graduating from my high school I no longer had any connection with tea ceremony. After a number of years, in my 40s, I decided on a whim to immerse myself in tea ceremony again. As life was quite hectic with my work and my role as a mother, looking back, I realize I was trying to remove myself from everything to relax no matter how short the time was. I just craved for the time I could spend feeling 'nothingness' away from all the commotions. Doing so made me feel invigorated, refreshed and ready for the activities the following day.
The tea ceremony is one of the fusions of traditional Japanese cultures; it integrates manners from such areas as calligraphy, ceramic art, lacquer ware, woven fabric, flower arrangement, cooking, gardening and even classical literature. Tea ceremony is profound and provides so many opportunities to learn. Even practicing the procedure for making tea changes your mode of behaviour into a more graceful manner emphasizing respect. It often teaches the ideas and skills that are useful in life such as how to serve sweets and tea, graceful movements, one's manner of speaking, and even how to handle and care for equipment. This training guides us to an enriched life. The most treasured skill I learned from the world of tea ceremony was the "spirit of hospitality", which naturally became a part of me.
I believe the procedure and techniques of tea ceremony are not simple to learn but show you the right pathway of life by way of "drinking tea". I think it is very important to offer the best hospitality at all times because every moment is special and happens only once in your life. This is significant even though those involved may be the same people you see always at a practice room or tea gathering. I hope to stay in the present and appreciate each moment in the ceremony. At the same time, a tea ceremony is a place for creating an ever-improving atmosphere where you offer the best hospitality and share delight and happiness with each other as host and guest working together.
Performances of tea ceremony are only for the purpose of making and drinking tea. Nonetheless, I think that tea ceremony promotes an unreserved people-to-people bond with consideration and appreciation. It is also a place where practical minded souls connect, not relying only on knowledge, experience or position in a society. The original point of "spirit of hospitality" is to concern yourself with the other person's position and to treat that person with warmth and respect.
Serving guests should not be done unilaterally by the hosts but by the guests as well, working cooperatively to create a comfortable environment. In order to create a space where hosts and guests care for each other, they act in unison, sharing a comfortable environment and generating a mutual understanding that comes with the performance of tea ceremony. The spirit of hospitality is not something that should be an obligation, but one regularly practiced in daily life, which is a sort of enlightenment. I would like to live life happily by interacting with people from a place of generosity. I would also like to enrich my daily life through my tea practice and through practicing the spirit of hospitality.
After I entered my 50s and took over my teacher's place for two years, I opened my own tea ceremony class in 1996. Since then the Sokyu Katuya tea ceremony class resulted in the assembly of like-minded people who are always friendly to each other and enjoy tea ceremony. The class is based on important lessons learned from my former teachers mixed with my own taste. Our group ranges from the 20s to 70s and I think everyone feels the joy of learning the procedure and spirit of hospitality that leads to an enriched life. We are open to expanding the class to incorporate the study of kimono-wearing, Japanese confectionery making, and making Japanese dishes of the season.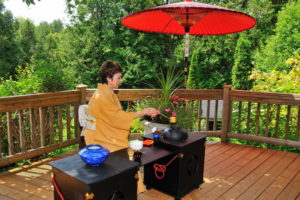 We have an annual tea-gathering event in the backyard of my house. It is a fun event that offers the opportunity for everyone to perform what they have learned while studying the seasonal dishes, preparing them and hosting many guests. In performing what we have learned from the heart, we see the happy faces of our guests, which in turn touch us with an afterglow that leads to future motivation.