David Ikeda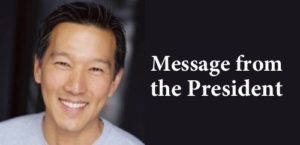 Dear members, volunteers, staff and board, it has been great honor and pleasure to serve as president of Japanese Social Services for these past five years. Together we have faced many challenges to deliver professional social services and counseling to our community.
When Mr. Maekawa asked me to take on the job for him, I remember Mrs. Lui our treasurer said I would only have to do it for two years. Well now that the organization seems to have weathered the storm that is Covid 19. and that we seem to be on a somewhat steady financial footing.
I feel it is time to move on to other challenges and leave the stewardship of JSS in the new board's capable hands. I have every confidence in their commitment and ability, and I pledge my continued support as well.
I would like to take this opportunity to thank some other board members who also retired since the last AGM. First Michelle Chibba, our former vice president for her skill and expertise at provincial grant writing which we never did really before as well as her knowledge of legislation and standards of privacy and security. Terry Ikeda was our Treasurer and he brought his knowledge and expertise in budgeting and assessment from his years as an accountant and as treasurer for Shinkikai. Meaghan Tananka almost single handedly revived our newsletter which was instrumental in our securing the grant from the Frank Hori Memorial Foundation. Michi Chun was a former employee of this organization brought her many years of experience as a social worker with the YWCA to the board. Sadly we lost all of these members to personal reasons and work commitments, not lack of support for JSS.
Finally I wish to thank Toke Suyama for his many many years of service to JSS. He served on the board as well as filled in for staff as a counsellor when they would go on well deserved vacations. He also started our longest lasting fundraising event the Torornto Challenfge which he used to walk and raise funds on his own. He also kept one of our largest funders Mits Ito informed of our activities and because of his sign of approval secured our most consistent annual donations from the Nelson Arthur Hyland and Salden Foundations. He will be continuing his involvement as honorary board member.
I must also thank Shokokai and Mr Yosh Ito for his organizations continued support. It matched its last year donation this year—incredible given the financial hardship his member organizations are feeling this year. And of course JCCC for its long support. Lets face it if we didn't have a home in this building we would not exist. And Marty Kobayashi has always had our backs. And of course there are the amazing Junko and Sam Yamamoto whose generosity and fundraising for JSS are without equal.
To close I again urge for you to continue with your support of JSS and this new board. I urge our volunteers to keep doing their wonderful work We need you. For the staff
please continue doing the amazing work you do for our community. To everyone here I have learned so much from all of you; growing and even leading by listening and appreciating the talent that is at JSS. How did I get so lucky. Its incredible to me that after half a decade of doing nothing but arguing with him I have finally learned that my father was right after all. It is indeed a good thing to give all you can. You get so much more back in return.
David Ikeda