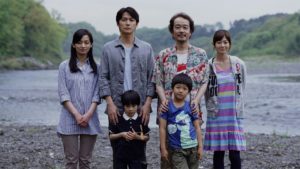 The next series of film screenings at The Japan Foundation, Toronto is called "Kore-eda + Kiki" which celebrates the accomplishments of master filmmaker Hirokazu Kore-eda and also of the prolific actress Kirin Kiki who sadly passed away in September.
The Japan Foundation will be screening three films by master filmmaker Kore-eda – two of which includes Kirin Kiki in the cast. Kiki was a frequent collaborator in his films, including Shoplifters, her last film, which won Kore-eda the prestigious Palme D'Or at Cannes earlier this year.
LIKE FATHER LIKE SONそして父になる
November 13, 2018 & December 14, 2018 6:30 PM
Directed by Hirokazu Kore-eda [2013] 120 min.
Successful architect Ryota learns that his biological son was switched at birth with the boy he has raised as his own. As two very different families are mashed together, Ryota is forced to make a life impacting decision between the two sons.
This thought provoking story of family and personal redemption won jury and audience awards at Cannes, TIFF and San Sebastien Film Festival.
http://jftor.org/koreeda-kiki/