Yukie Fuchigami (Gohanyo: Secrets from a Japanese Canadian Mom)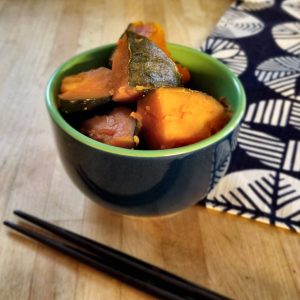 Serves 6
INGREDIENTS:
1 small buttercup squash
Soup Stock:
1 cup water
2 tablespoons dashi-no-moto
2 tablespoons sugar
2 tablespoons soy sauce
1 tablespoon sake
2 tablespoons kombu, cut into thin strips
PREPARATION:
1. Wash the squash and remove any hard bumps and peel. Slice in half, remove the seeds, and cut into 2-inch pieces.
2. In a large saucepan, combine water, sugar, soy sauce, sake and dashi-no-moto (or soup stock) and bring to a boil.
3. Add squash. Cover and simmer for 15 minutes or until squash is tender. Pour broth over squash occasionally. Serve with kombu strips.