RECIPE: Lettuce Wraps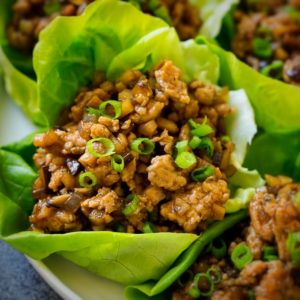 Quick, easy, and inexpensive, these flavourful lettuce wraps make a nice light meal on a hot summer day.

Ingredients

1 pound ground chicken (or pork)
2 cloves garlic, minced
1 onion, diced
1 (8-ounce) can whole water chestnuts, drained and diced
2 scallions, thinly sliced
1 tablespoon olive oil
1/4 cup hoisin sauce
2 tablespoons soy sauce
1 tablespoon rice wine vinegar
1 tablespoon freshly grated ginger
1 tablespoon Sriracha, optional
Kosher salt and freshly ground black pepper, to taste
1 head butter lettuce
Directions

Heat olive oil in a saucepan over medium high heat. Add ground meat and cook until browned (about 3-5 minutes). Make sure to crumble the ground meat as it cooks. Drain excess fat.

Stir in garlic, onion, hoisin sauce, soy sauce, rice wine vinegar, ginger and Sriracha. Cook until the onions have become translucent (about 1-2 minutes).
Stir in chestnuts and scallions. Cook until tender (about 1-2 minutes). Season with salt and pepper, to taste.

To serve, spoon several tablespoons of the mixture into the centre of a lettuce leaf.
Serves 4