By Harue Clipsham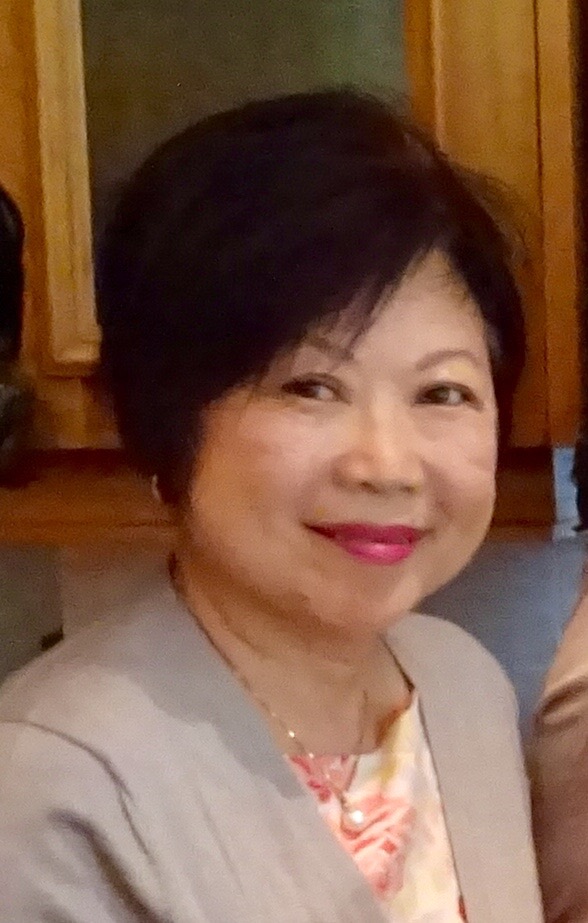 It's been a year since we moved to a 2-bedroom downtown condo from a Toronto suburban, 2-story 4-bedroom house in which we had lived in for 30 years.
By the time we moved, our home was showing typical signs of many seniors' households. My husband had already been retired for 7 years, was having difficulty navigating up and down the stairs due to chronic illness, while I myself was getting tired of having to take care of a big garden and had asked for hired help to maintain the house. Since our two daughters had left home during their university days, there were some rooms that have been unused for a long time.
We had thought of leading a safer and less burdensome lifestyle for some time, but we had not actually taken any action in pursuing it yet. There are, of course, various lifestyles where some people would continue to live in their houses until the end, others may downsize and move to smaller houses, rent apartments, or move to nursing homes as their final living places. The choices that seniors can make these days are abundant and they can choose according to their liking and they've been using terms to suit the new trend such as "smart sizing" or "right sizing."
However, there is always a right time for everything. Our eldest daughter's wedding the year before last August triggered the opportunity in our case. Our daughter got married in Maui, Hawaii, but decided to have a small but cozy and warm wedding reception with close relatives in our backyard garden. I had tended our garden with care for so many years, as gardening was my hobby. What a great gift that was – my daughter wearing a white wedding dress and walking in the garden in the summer sunshine, surrounded by family members and glowing with happiness. With this best gift and great memory came a shift inside me and I proposed to finally sell the house that we'd lived in for so long. My husband who was in his mid-seventies had finally gotten off his backside and we came to terms and became mentally ready for the move.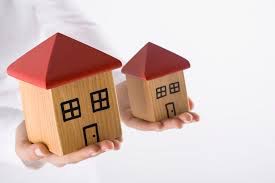 If we were to come up with our ideal list, it would have been endless. Prior to downsizing we sat down and started redefining what was important to us and where it was we wanted to go. We wanted to be able to clean up and put away our house while we were still energetic. Next we also wanted to live in an area with lots of greenery. When going to concerts and movies, we wanted to use the subway. We also wanted to move closer to our daughters' dwellings and to places such as the JCCC. And even when far away from my husband's friends, we wanted diligently to continue our contacts and keep up our relationships with them. All these things were on our wish list.
Fortunately, we were able to move to a condo that would meet our desires. Living in a residential area with more greenery than before gives us a sense of being calm and quiet. One coincidence is the boarding house where my husband used to reside in in his single days is in this vicinity. We were conscious about making the space barrier-free and comfortable, so before moving in we'd done extensive renovations. We used bridge finance, but because we had made the place suitable to our liking, our new lives have given us a lot of hope and offered a fresh new start. I'd say that it was emotionally a very important element.
Since this is a rather old condo, the heating system creates strange noises or we're a bit surprised by odd little rules. However, 24-hour concierge and security service is convenient and dependable. My husband enjoys the amenities such as the library, gym and pool, but still, he'd say he prefers the house. And it looks like he is still adjusting. Apparently, it is not just because of a lack of space, but he seems to be suffering from a sense of being lost including the loss of the house, as he seems to miss some items that had been stored in the basement and had not been even touched in the last 30 years. We'd eventually look for those items thoroughly.
Stemming from the ideas of just cleaning up or scaling our lifestyle back a bit, it has led us to our new ways of thinking toward material things and how to live our lives more meaningfully — a lifestyle that uniquely fit what our hearts desired.
It took us 10 months since we started thinking about moving until we actually made a move. We were pressed for time and constantly played catch-up trying to clean up at that time. First, we decided on what to bring to the condo roughly. After that, regardless of how expensive things were, and whether or not they were high-quality items and cherished gift items, we decided to get rid of them if they didn't fit in the condo or if we hadn't used them for a long period of time. Things were given away to our children and neighbours, or charitable organizations, or they were discarded. We didn't bother selling them, as it would have taken us a lot of time to do so. Even after moving to the condo, especially with my clothing, I'm still trying to declutter our space by sorting them into the ones I need and the ones I don't need. Items such as floor mats that our grandchildren would use wouldn't fit into the closet. So it is a continuous process of eternal decluttering — Dan Sha Ri (Refuse, Dispose & Detach). It is still being fine-tuned nearly every day.
The word "Dan Sha Ri (断捨離) " is a term coined by Hideko Yamashita of Japan that has trademark registration. As some of you may know the three characters are drawn from yoga philosophy and it depicts ways of everyday items. However, it would rather lead you to your own ways of thinking about how to live, as 断 has the meaning 'to refuse', 捨 has the meaning 'to dispose' and 離 has the meaning 'to distance'. In our case, prior to moving we concentrated on '捨'disposing or donating unnecessary items or those we haven't used. However, we now work on '断'to shut out the unnecessary items from coming into our household, and '離'to detach ourselves from being obsessed with possessions. Instead we want to strive to feel rich spiritually rather than materialistically. It really applies to me as I have a reputation of being a shopaholic.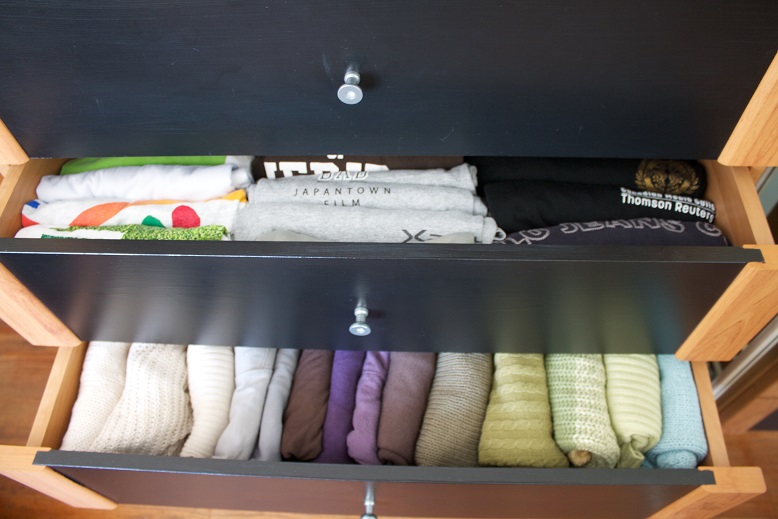 At the time of my moving into the condo, I did not know about it. However, since then I've heard about this unique tidying up method called "KonMari Method" and a book written by Marie Kondo, "The Life-Changing Magic of Tidying Up: The Japanese Art of Decluttering and Organizing". Her tidying up method has been spreading worldwide and there were a few articles written in the Toronto newspapers at the beginning of this year as well. Her English and Japanese books have sold more than a million copies and Marie Kondo has been selected as one of 100 influential people in the cultural category in the 2014 New York Times.
According to her method tidying-up needs to be done in a rapid dramatic and transformative one-time organizing event, within a short period of time, by category rather than by room or location, thoroughly. You basically leave only those items that "spark joy" and bid a firm farewell to the rest. You mind your own tidying and not worry about your partner's. Shed your mind from worrying about clutters created by others. Think about what kind of life you'd like to lead and what your ideal lifestyles are like by decluttering your space. There are teachings that we can learn from her method of bidding a fond but firm farewell after thanking the items for being useful and giving you pleasure. From now on I've decided that I'd like to think about the simple life by way of "Dan Sha Ri" or "Sparking Joy."
By looking at my husband who survived the hard days of transitions, our daughters seem very pleased and say, " Daddy looks healthier and better than last year." We often stroll around the near-by trails with our guests or while pushing a stroller with our grandchild. On our cozy balcony we also spend our coffee time after breakfast — my husband, our 18-year-old cat and me leisurely relaxing on a summers day. We check each other's schedule every day and try our best to have a relaxed time together. I'm very glad that we've switched gears and now spend our time relaxing in our new home rather than spending so much time taking care of the house maintenance.
Some tips when downsizing:
Keep abreast with the buying and selling information of the latest real estate market. (You can access the major newspaper of Toronto on the Internet.)
Ensure the house is fixed up with safety in mind and decluttered with the spirit of "Dan Shari Ri" 断捨離 (Refuse, Dispose & Detach)
Decide on what to do with large furniture not needed as soon as possible; throw away, sell, or donate. As for the donations, there are some places where they'd give out receipts for transportation expenses that can be used for Tax claims.
(We ended up incurring extra unplanned costs, as we'd tried to donate some furniture to Salvation Army, but the moving truck got stuck in traffic and couldn't move the rest of the items within the same day, thus going over a two-day period.)
It is a normal practice to vacate everything, empty the house and then hand over the house. However, if any home buyers want some items left in the house, rather than a verbal agreement, make sure that you draw up a list of items to check and exchange the requirements before leaving the house.