Tomoko Fukushima, Registered Nurse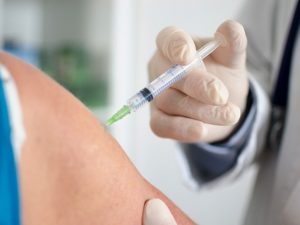 Every year around the end of October, the flu-shot becomes available in Ontario. There are a few types of flu vaccines, but most clinics use two types – Quadrivalent flu vaccine for people from 6 months to 64 years of age, and Trivalent high dose flu vaccine for 65 years and older.  
According to the statistics by Government of Canada, every year, approximately 12,200 people are hospitalized, and 3500 people die from influenza infection, making influenza and pneumonia one of the top 10 leading causes of death. Children under five and seniors over 65 years of age, as well as people who are suffering from chronic disease such as diabetes, cardiac or pulmonary disorders, and all pregnant women are at higher risk for getting infected with influenza and for developing complications. People who are identified as high risk and their families are especially encouraged to receive the influenza vaccine.  
Even a young and healthy person can also develop complications such as pneumonia from influenza infection. Combined with our effort of increasing herd immunity in the community, the influenza vaccine is recommended for young and healthy adults, too. Particularly in the context of the Covid-19 pandemic this year, the increased health risks of double infection from influenza and covid-19 and the increased burden on the healthcare system and community are anticipated. Because the symptoms of Covid-19 and influenza are similar, influenza symptoms will be initially suspected as Covid-19 infection, leading to extra burden on the healthcare system, schools, and workplaces. Until covid-19 vaccine becomes available, let us protect ourselves against influenza to at the very least prevent the risk of double infection. 
Flu shots are available at family doctor clinics, public health clinics, and participating pharmacies.