The 2nd Dementia Supporter Training
By Satomi Hiraga, Coordinator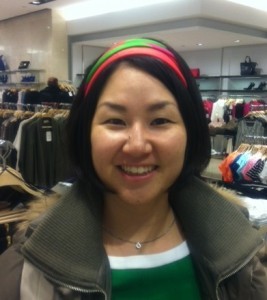 On March 29th 2015, Japanese Social Services (JSS) hosted 'Dementia Caravan', a dementia seminar, in conjunction with the Toronto New Japanese Canadian Association (NJCA). The seminar was held in the Hiroko-Barall Room at the Japanese Canadian Cultural Centre and was attended by 16 participants. This was the second time that JSS hosted this event. The first dementia seminar was held last June.
The Dementia Caravan seminars aim to educate the public about dementia, by increasing awareness of the challenges that those afflicted with dementia face, and also the stress it can cause family and friends. In addition, the seminars introduce some effective ways of supporting those living with dementia, in turn fostering more effective social support in the community. This initiative was first conceived by the Ministry of Health in Japan and has subsequently been undertaken by volunteer organizations operating in the U.S.A., Germany and here in Canada.
The latest seminar in Toronto commenced with a speech by Anzu Hara, President of NJCA and Kiyoshi Dembo, Special Consultant to the JSS Board & JAMSNET President. After that, Nurse Yuka Okada of Momiji Healthcare Society presented a lecture about "The Understanding of Dementia". She detailed the types and symptoms of dementia in a simple and accessible way, with concrete examples to illustrate the conditions and explain the progression of some common diseases associated with dementia. This presentation was very well received. It sparked a lot of interest and enthusiasm on the topic.
After a short a break with snacks and refreshments, NJCA Volunteers who were trained for the Dementia Caravan performed a skit. It involved a simple scenario involving a dementia patient struggling with a common problem and how the people surrounding her dealt with the problem. In short, it depicted insensitivity and unfavourable responses to the problem. After the skit, participants were invited to apply what they had learned in the first half of the seminar. They were asked to suggest more effective responses and behaviours from those dealing with the dementia patient in the scenario. The seminar concluded with a few words from Atsuko Nakayama of the NJCA and finally each participant was awarded a certificate of completion and presented with an orange bracelet promoting dementia awareness.
Many people in today's aging society are interested in dementia and its effects on communities and therefore information seminars such as these provide much needed support and reassurance. JSS looks forward to holding more seminars in the future for a variety of demographics. However this project can only operate with the generous help and contribution of the Caravan volunteers, members of the community, and community groups that aspire to create more livable conditions for the Japanese community in Toronto. To these people we extend our warmest thank you for their passion and inspiration!