By Marion Yanase
What's "natto" you ask! Doesn't everyone know what it is? Vegans rave about the health benefits and numerous articles have been written about this so-called magic food that could be the answer to Japanese longevity. Well, have you encountered it yourself? Reading about it is very different than trying it when served a Japanese-style breakfast or trying it as an experiment in healthy eating. The smell, texture, and consistency will definitely never be forgotten. People either love it or hate it.
During post-war Japan, to help some starving citizens near the town of Mito in Ibaragi Prefecture, a gentleman who later became the mayor, gave free natto to all the people in his town to restore malnutrition, stiff and aching joints, and also to increase their general intake of protein. Natto produces an enzyme which produces Vitamin K2 which aids in calcium metabolism. Researchers have said K2 helps in restoring strong bones, prevents hardened arteries, helps digestion problems, plus other benefits. Thousands of articles have been written about this product, its nutritional value, as well as recipes for making good natto when it is not available locally. Strong persistence is required to get accustomed to the slimy, tan-coloured fermented beans that might be comparable to a smelly cheese with a slightly ammonia-like smell. The slimy beans produce threads as one will see when trying to get the concoction from the dish into the mouth. Children have called them cobwebs until they learn how to finally get a mouthful.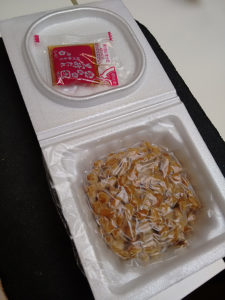 Mrs. Noriko Oka, the current cooking coordinator for the JSS cooking volunteers who prepare monthly hot meals for the Wynford Seniors, was asked about natto. After moving to Canada she never thought she would ever make natto herself until she decided to get the bacterial culture from Japan to produce her own good quality supply. There was a family emergency and she needed something to improve her husband's failing health. Natto worked miracles for him. Each JSS cooking volunteer shared a natto dish that might make it easier to swallow these fermented soy beans while producing nutritious meals to ward off joint or arterial problems.
Natto in miso soup
Natto in fried rice or fried noodles
Natto on toast (Some folks say it's as good as camembert on toast)
Natto mixed with avocado and dipped in shoyu
Natto on pizza
Natto pancakes or French toast with natto and maple syrup
Natto put into deep fried tofu bags so they are flat and then grilled
Natto in a hearty stew with many other ingredients
Natto spaghetti, sauté with pasta or mix with spaghetti sauce
Natto sushi
Natto wrapped in little sheets of flavoured seaweed
Natto served on slices of cucumbers
Natto with kimchi (JSS counsellor Takanori Kuge's recommendation)
Natto with curry (especially dry curry)
Natto served traditional style, whipped up with hot mustard and a raw egg yolk, if available, to pour over hot rice.
All natto dishes need finely sliced green scallions (negi), both the white bulb and green stems. Ginger or garlic may also be added as well as a sheet of plain, toasted seaweed cut into fine strips.
Mr. Keiichi Kubo, an energetic PR volunteer/professional on the JSS Concert Committee, said he enjoys a cup of shochu with a slice of good raw tuna (toro), a dollop of natto, a few crunchy daikon pickles and a sprinkle of sesame seeds after a busy day. Could this be the secret for his calm, friendly and highly energetic nature?
It would be interesting to encounter natto to find out what all the hype is about. Can we be persuaded to learn to eat this magic concoction which does not have some of the side effects of big pharma products? "Gambatte!"