Piano Duo Charity Concert
By Junko Yamamoto
Japanese Social Services (JSS) will be holding its first ever charity concert featuring acclaimed Japanese husband and wife pianists, Kikuo Watanabe and Etsuko Terada. They will be performing in Toronto on September 24, 2016, at 7:00 p.m. at the prestigious Glenn Gould Studio. The concert hall is famous for its excellent acoustics so the pianists' skills and artistry will be on display at one of Toronto's best concert venues.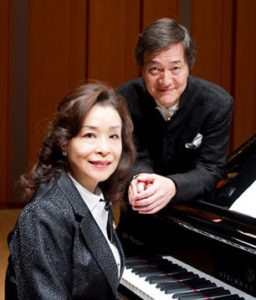 Ms. Terada and Mr. Watanabe currently live in Tokyo, although they have previously taken residence in various places throughout the United States and Europe. Since 2000, Ms Terada has made several recordings for Sony Records including the Chopin Concerto No. 1 and Mozart's Piano Concerto No. 23 with the Vienna Symphony Orchestra. She has performed extensively throughout Japan, Europe and at New York's Carnegie Hall (2013). Since 2000, she has been a professor at the Nihon University College of Art Graduate School in Tokyo.
Mr. Watanabe has a very rich musical pedigree. His father was the renowned conductor and the founder of the Japan Philharmonic Orchestra, Akio Watanabe. His grandmother, who is of Finnish origin, is a classically trained singer. In December, 2015, Mr. Watanabe was awarded the prestigious Sibelius Medal, which is awarded to outstanding music performers, like Mr. Herbert von Karajan and Mr. Simon Rattle. The award which was presented at the Finnish Embassy in Japan was particularly significant in that 2015 was the Finnish composer's 150th anniversary. Mr. Watanabe is serving as a professor in Tokyo at the Musashino Academia Musicae.
The performance in Toronto on September 24th will feature solo performances by the artists as well as duos with both Etsuko and Kikuo on stage together performing on two Steinway pianos. Although they have performed many times in many prestigious concert halls in Japan, North and South America, this will be their first performance in Toronto. The JSS Charity Concert promises to be an exciting and culturally enriching event which you will enjoy.
The ticket price is $50.00 (incl. HST) and will be available in May, but you can reserve tickets now by calling the JSS office (416-385-9200). Details will be forthcoming, so please check our website and follow our future issues of the JSS e-newsletter.
I would like to express our sincere appreciation here to the performers, Mr. Kikuo Watanabe and Ms. Etsuko Terada, who have generously agreed to perform for the benefit of JSS. Please mark the date of September 24, 2016 on your calendar. You will be treated to a wonderful cultural evening featuring world renowned talent as well as helping JSS, a vital organization in our community.