(English) BOOKS: INTERVIEW WITH LYNNE KUTSUKAKE, AUTHOR OF 'THE TRANSLATION OF LOVE'
Michelle Chibba, JSS Vice President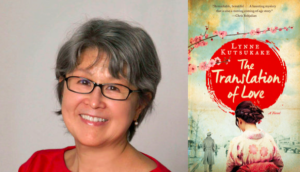 TITLE The Translation of Love (2016)
AUTHOR Lynne Kutsukake
CATEGORY Historical Fiction
2017 WINNER Kobo Emerging Writer Prize
2016 WINNER Canada Council Canada-Japan Literary Awards
I was volunteering at a JCCC event last summer and as we were discussing good books to read, a friend introduced me to The Translation of Love by Lynne Kutsukake, who happens to be her cousin.  Like me, Lynne Kutsukake was born and raised in Toronto by Japanese-Canadian parents who had been interned during World War II.  Lynne moved to Tokyo to teach English in 1976 and she went on to study Japanese literature. She spent most of her career as a librarian specializing in Japanese materials at the University of Toronto, where she worked until 2007.  You can follow Lynne on Twitter @LynneKutsukake.
The Translation of Love is set in post-war Japan and tells the gripping and heartfelt story of a newly repatriated Japanese-Canadian girl, thirteen-year-old Aya Shimamura who must help a classmate with a bold personality, twelve-year-old Fumi Tanaka, find her missing older sister.  Fumi understands little of what could have happened to her beautiful sister Sumiko but somehow guesses that her sister disappeared into the seedy back alleys of the Ginza.  There are a host of other characters that are intertwined and significant to the plot of Aya and Fumi's relationship and quest to find Sumiko.
Lynne notes in an interview with the CBC that the idea for her debut novel came from a book called Dear General MacArthur (2001), written by Japanese historian Rinjirō Sodei about the letters written by the Japanese public to General MacArthur during Japan's American occupation period.  She decided that the central character should be a young girl 12-year-old girl because as Lynne explains, "I wanted the person to be a 12-year-old because General MacArthur quite famously, infamously called Japan 'A nation of 12-year-olds'."
Many are unaware that at the end of the war Japanese-Canadians were not allowed to return to their homes on the west coast.  Japanese-Canadians were given the choice of settling east of the Rockies or repatriating to Japan. Apparently, 4,000 Japanese-Canadians ended up going to Japan under the repatriation program.  Lynne's grandparents on her mother's side repatriated to Japan, but Lynne notes in interviews that nobody in her family really talked about the internment, let alone repatriation. She had to learn about much of this history as an adult.
Lynne's book helps us to get a glimpse of what life was like in Japan for the many Japanese-Canadians. Frankly, it was difficult — there was the shock of the long, arduous boat trip to Japan, of arriving in a war-devastated country.
I am sure that regardless of one's perspective, everyone will find something of value from and insight into this period of time that is not often talked about. To pique your interest, here is a quote from the New York Times article: "Everyone is betwixt: suspended between the pain of the past and the uncertainty of the future, and caught between identities as well."
Lynne Kutsukake has generously donated a couple of copies of her book to JSS for members to borrow and enjoy.
Michelle Chibba's interview with author, Lynne Kutsukake (January 20, 2018).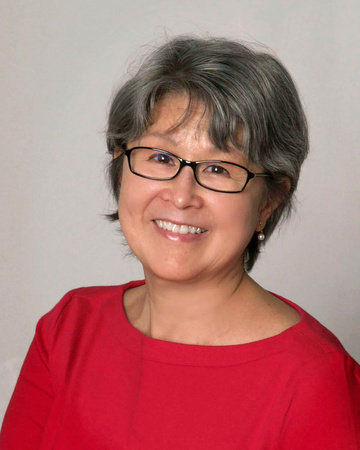 Michelle: You noted that you had drawn inspiration from Japanese historian Rinjirō Sodei 's book Dear General MacArthur.  Since your book is told against the backdrop of life in Tokyo just after the war during the American occupation, did you draw the descriptions of the places from the time that you spent in Japan? (e.g. the park, the bars in Ginza, the roadway that the General drives to the US building). By the way, these descriptions of areas in Tokyo lifted me from Toronto, added so much virtual reality and left me wanting to visit these places.
Lynne: I did! I first went to Japan to teach English a long time ago (in the late 1970s) and because I hardly knew any Japanese then I began studying at a language institute called Nichi-Bei Kaiwa Gakuin. It was in Yotsuya, right in the center of Tokyo. Before going to Japan, Japanese had always seemed like something impossible to learn, but being in the environment helped a lot. I got bitten by the Japanese language bug and when I returned to Toronto I decided to do some graduate work in Japanese literature. I got an MA from U of T East Asian Dept., and then went back to Japan again, this time on a Mombusho scholarship. Again I lived in Tokyo. All of the locations in my novel were inspired by locations I've actually been to during my trips to Japan. Obviously I didn't know what they looked like during the postwar Occupation period — I had to do a lot of research looking at old pictures — but because I went to Japan when I did, this was a time when buildings didn't look as glitzy and modern as they do now. There were lots of old wooden apartment buildings and narrow alleyways, much more than you see today. On the outskirts of Tokyo not all places had modern plumbing yet. I projected my imagination onto those memories I had. Ueno Koen, Hibiya Koen, Ameyoko, Kanda, the Ginza. I've been to all those places and they have a special magic. Over the years I've been able to go back and forth to Japan quite a bit, and during the time when I was writing my novel, I went to most of the sites I wanted to include in the setting of my novel. For instance, I went to the Daiichi Building, which became the General Headquarters (GHQ) — it's still there in the same spot, and although they've built a tall office tower on top of it, the base (the original building was only five or six storeys) is exactly the way it looks in old photographs. I got a good sense of the spatial geography around the building and how imposing it must have been in those days, especially because the surrounding area was flattened by firebombing. Also, how close GHQ was to the Imperial Palace and what the wide road in front of GHQ must have looked like when it was empty. After I published my novel, I went to Japan again and looked for the original site of "Love Letter Alley" (Koibumi Yokocho) — there was definitely a very famous one in Shibuya. I discovered that the site is where a department store called "109" is located today.
Michelle: Many of the book reviews focus on the perspectives of the Japanese Canadian/Japanese American experience in Japan.  On the other hand, I found your depiction of the subtle Japanese cultural norms intriguing, whether through Mr. Kondo, the teacher who moonlights as a letter writer and gets terribly sick; the attitude of the police regarding deceased babies; the principal's approach when the girls go missing.  Was having a Japanese background instrumental in picking up and including these cultural norms in the characters?
Lynne: I really appreciate your sensitivity to the characters as Japanese people. In fact, one of my favourite characters in the novel is Kondo Sensei. Yes, I think it helped that I have studied Japan and Japanese literature. I don't think I would have dared to write a novel set in Japan otherwise. I guess that understanding cultural norms is important because the characters interact with each other within a Japanese context. There are some aspects of Japanese culture such as emotional restraint and saving face and hone and tatemae that affect how people express themselves. I like the restraint because there's a lot of complexity of emotion below the surface and that is interesting to a writer. But my main goal was to create characters who were as three-dimensional and believable as possible. If they come alive for readers, that's the most important thing.
Michelle:  Is the book translated into Japanese?  If not, are there any plans?
Lynne: No, it's not translated into Japanese. My hope is that someday it will be. That would wonderful. But some Japanese friends who live in Canada have read my novel in English and they told me that they found it easy to read. So I hope that people will feel encouraged to give it a try.
Many thanks to Lynne Kutsukake for agreeing to be interviewed and for generously providing JSS with copies of her book so that JSS members will have the opportunity to read it for themselves. I am sure that we all look forward to Ms. Kutsukake's next novel!
Let us know what you think. You can email comments to info@jss.ca using the subject line "E-Newsletter". If we publish your comments we will get your consent to include your name or otherwise, with anonymity.
Resources used:
Wall Street Journal Article. https://www.wsj.com/articles/after-finishing-her-novel-lynne-kutsukake-dotted-an-eye-1461079944
Globe and Mail Article. https://www.theglobeandmail.com/arts/books-and-media/book-reviews/review-lynne-kutsukakes-the-translation-of-love-offers-rich-insights-into-an-underreported-period-in-history/article29569056/
New York Times Article. https://www.nytimes.com/2016/04/17/books/review/the-translation-of-love-by-lynne-kutsukake.html
CBC Article. http://www.cbc.ca/radio/thenextchapter/teva-harrison-on-cancer-michael-coren-on-gay-marriage-1.3581810/why-lynne-kutsukake-wrote-the-translation-of-love-1.3581837