VOLUNTEER SPOTLIGHT: 2017 Holiday Drive Team
JSS Board of Directors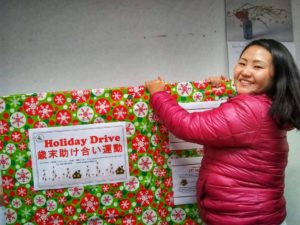 Coordinating the JSS Holiday Drive is always a massive endeavour even for veteran volunteers. This past winter, three rookies — Ayami Kim, Kyoko Bezkool, and Maki Mori — took on the daunting challenge of coordinating and promoting the Holiday Drive, and they did so without a playbook to follow.  Each week of the Drive brought new and unexpected challenges.  Learning as they went, coordinators, Ayami and Kyoko worked twice a week for the first 10 weeks of the drive, and 7 hours every day for the final two weeks.  They invested nearly 200 hours of volunteer work sending out emails, coordinating with partners in the Japanese community, organizing the pick-up, sorting, and delivery of donations, and guiding the approximately 20 other volunteers who made the 2017 Holiday Drive a success.  The biggest challenge was organizing the gifts to meet the specific needs of each family.  For example, finding age-appropriate toys for children and food items that required minimal preparation for seniors. Complicating the process even further was the fact they had to change rooms constantly in the JCCC because they did not have a dedicated place in the Centre.
While Ayami and Kyoko were busy on site, Maki Mori did fantastic public relations work promoting the Holiday Drive online.  By posting the progress of the team on Facebook and Twitter, and promoting it in multiple Japanese community publications, Maki was able to attract numerous first-time donors who will hopefully continue to donate to JSS for years to come.
Even though it was an over-whelming experience for the organizers they were all happy that they saw the difference that their efforts made.  Maki loved seeing the number of donors rise with each new post, and the coordinators were able to meet some of the families with children that benefited from the program.
The top items on the team's wish list for the 2018 Holiday Drive are monetary donations so it is easier to customize the gifts packages, non-perishable Japanese food, especially rice and soy sauce, and most importantly, more help!  So please, join them next year in this wonderful endeavour.
Thank you Ayami, Kyoko, and Maki! We are so grateful for your tireless efforts and proud of your success.