JSS Program & Volunteer Report
Rumiko Suzuki, Coordinator – Volunteers and Community Support Services
After the feeling of the pandemic coming under control during the summer and fall, the rapidly spreading Omicron variant led to the tightening of restrictions once again this winter. In a situation that can easily deepen feelings of isolation with the harsh winter, JSS has supported the community with various activities such as a Holiday Drive, online social programs, online seminars, and the friendly calls program, with the help of many volunteers.
Online Social Programs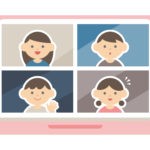 The Konnichiwa Program, which is a friendly visiting service by phone or zoom, as well as social programs such as Craft Club, Seniors Singing Club, Hot Lunch Social, and Easy Yoga for Seniors, continue to be run online, mainly by volunteers. Although the online programs started as an alternative to in-person, it also has the advantage of allowing those who live outside of GTA to participate. As we explore the possibility of resuming in-person programs, we need to strike a good balance between the current online programs and in-person programs so that those who live at a distance can continue participating.
While existing programs continued, one program came to an end. With the retirement of Chao-san, a volunteer who had led the program for 10 years, The Raising Amuro Kids program came to an end in January. Thank you Chao-san for leading the program for many years. Due to the high demand for the program, we decided to continue it as an online option, "Kakehashi no Kai" starting in February, as a meeting space for parents raising children who are neurodiverse.
Momiji & JSS e-Learning Series
The joint online seminar with Momiji Health Care Association continues to be held twice a month, focusing on seniors, who are the main audience segment, as a hub for information and interaction. A wide range of topics is covered to meet the needs of participants, from health issues such as diabetes, dementia and Alzheimer's disease, legal guidance such as power of attorney and wills, to cooking classes with a Japanese chef. Thanks to our volunteers who always provide technical support for the seminars and keep them running smoothly.
2021 Holiday Drive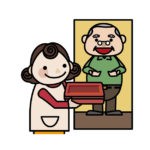 As in 2020, the 2021 holiday drive accepted monetary donations to purchase and deliver food. This was my first major event since joining JSS, and it was a great experience for me to witness the enthusiasm of the community through support and generous donations. In particular, thanks to our volunteers who took the initiative by facilitating various arrangements and carrying out PR activities, we were ultimately able to deliver gifts to 32 families, consisting of 73 individuals safely. We are deeply grateful to all those who contributed.
For this summer
We plan to resume some of the in-person programs for those who have been forced to live in isolation due to the pandemic. In addition, more people are in need of support than ever before; the result of added hardships of living caused by rising prices and rent. With the help of our community, we'll continue to provide as much support as we can, so we may reach the vulnerable populations within. Thank you for your continued support.