Enka Legend Kiyoko Suizenji in Concert
Tickets are now on sale!
Kiyoko Suizenji is one of the leading Enka singers in Japan. She has a career of over 50 years and her songs cheer up everybody's heart and mind. "The March of 365 steps" is one of her most popular songs and so many people have been encouraged by this song. Among many of her hit songs, "One Plus One" has been danced to at many festivals and is particularly famous among Japanese Canadians.
Suizenji-san's concert will be held at the JCCC Kobayashi Hall on Saturday, November 7.
This concert celebrates the Nikkei community and is also a charity concert for Japanese Social Services and the Japanese Canadian Cultural Centre. Money raised through ticket sales and food/goods sales will go to support the work of these two organizations, which have been serving the Nikkei community tirelessly.
Date:               Saturday, November 7, 2015
Time:               2:00pm / 6:00pm
Tickets:          $50.00 (including HST) Floor seats and stadium rows A-G
                        $40.00 (including HST) stadium rows H-R
Reserved seating only.
For tickets, call JSS (416-385-9200 / toronto.office.jss@gmail.com).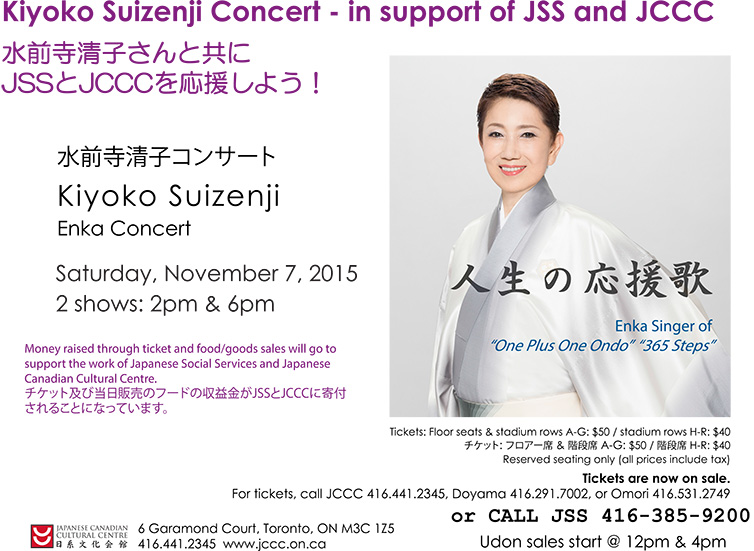 Download the flyer here (PDF).