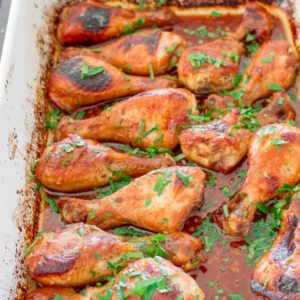 This recipe is easy, inexpensive, and delicious. You can reduce the fat and calories by removing the skin from the drumsticks. The recipe also works well with chicken thighs instead of drumsticks. Variation: Add 1-2 tablespoons of your favourite hot sauce to spice things up.
INGREDIENTS
Approximately 12 chicken drumsticks, bone in, with skin (3lbs, 1.3 kg)
Marinade
2 tbsp olive oil
1 tbsp sesame oil
5 tbsp honey
1/4 cup soy sauce (low sodium)
3 cloves garlic, minced
1 tsp ginger freshly grated, ginger powder works as well, about 1/2 tsp
1/4 tsp black pepper, freshly ground
Garnish
1 tbsp parsley chopped, for garnish (optional)
INSTRUCTIONS
Whisk all the marinade ingredients together in a shallow baking dish about 5cm deep. Add the chicken. Toss the chicken in the marinade making sure each piece is coated. Cover the dish with plastic wrap and marinate the chicken for at least two hours, preferably overnight.
Preheat the oven to 375 F degrees.
Remove the plastic wrap and bake the chicken for 45 to 55 minutes or until a meat thermometer registers 180 degrees F (for dark meat or 170 degrees F for white meat). Make sure to turn the chicken over half way through. This way they will get nice color all around.