CALLING VOLUNTEERS: Summer Festival
Chie Takano Reeves, JSS  Volunteer Coordinator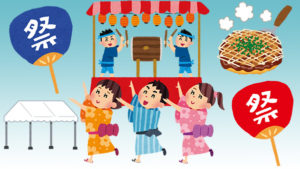 Event: Natsu Matsuri (Summer Festival)
Date: Saturday July 14
Time: Any time from 8:30am to 9pm 
The season of the JCCC Natsu Matsuri (Summer Festival) has arrived.
As a way to increase community awareness about JSS and its services, and also as a fundraiser, we will be cooking and selling takoyaki (octopus balls), okonomi-yaki (Japanese savoury pancake), yaki-onigiri (grilled rice balls) at the JSS booth on Saturday, July 14th.  We are looking for people who can help us out.
Join us to have fun and help JSS raise some much needed funds!
Volunteers are needed for:
food preparation
selling tickets, directing customers
handing customers the food they ordered in exchange for their ticket
setting up, fetching items, cleaning up
If you think you work well in any of these tasks, let us know which one you would like to take on.  Please be advised that depending on the number of people already assigned to the task, we may have to ask you to help us out with a different task.
The food booth opens on July 14th at 1:30 p.m. but we require people to help with the preparing of food and cleanup afterwards.  Therefore, when you contact us, please indicate what times you can help out between the hours of 8:30 a.m. and 9 p.m. A light snack will provided to volunteers.
HOW TO SIGN UP?
Email Chie at programs@jss.ca, fill in the online inquiry, or call the office. No need to worry if you haven't registered as a volunteer at JSS. You can still volunteer for us.
This is a good opportunity for high school students who require volunteer hours.  Please let your friends know about this volunteer opportunity.
We hope to hear from you soon.  Together with your help, we can make the JSS booth a success!