UPCOMING EVENT: Fundraising magic show by Japanese illusionist Mr. Daiki Tanaka
Junko Yamamoto, JSS Fundraising Committee Chair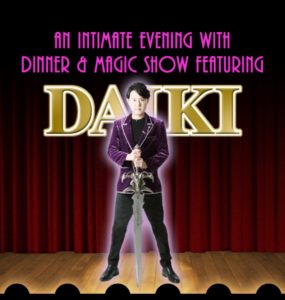 2018 is the 90th anniversary of Canada-Japan diplomatic relations, and there are many events to commemorate this milestone relationship.
Mr. Daiki Tanaka who is gaining popularity as a rising new illusionist in Japan is coming to Toronto this month as a part of these festivities. He is going to demonstrate his magic show at a Toronto hospital and the Japanese Canadian Culture Centre (JCCC) on July 16th & July 17th.
My friend, Mr. Asuka Warabe who is also an acquaintance of Mr. Tanaka and an artist in Toronto kindly recommended that I use this occasion and have a fundraising event for JSS. The problem was finding a venue for having this charitable event. I looked around for places, but could not come up with any appropriate site.  Finally I decided to open our home for this occasion and host an intimate evening of Dinner and Magic with Daiki Tanaka on July 17.
When you do an event at a private home, there is inevitably a problem of space, so I had to limit the number of guests to 50 people. I sent an invitation to my network of friends. Luckily, I was able collect 50 people in 10 days. The ticket price is $100.00 per person for a buffet dinner and magic show by Daiki Tanaka. The entire amount collected in ticket sales goes to JSS.
This is not a big scale fundraising event, but by holding small promotions using different opportunities, I hope we can aid financially the operation of JSS.