Workshop for Advance Care Planning (ACP) offered by Momiji Health Care Society & JSS
By Yoko Galloway
On June 27, 2015, I went to a movie screening of "A Terminal Trust" which had been originally released in 2012 in Japan. It was shown to a packed audience at Innis Town Hall of the University of Toronto. With an introduction by the director, Masayuki Suo, known for movies such as "Shall We Dance?" and "I Just Did Not Do It", together with his wife, actress Tamiyo Kusakari who played a doctor sympathizing with a patient.   The other leading actor in the movie was Koji Yakusho, who played a terminally ill patient, who had asked his doctor to terminate his life, when his time came. The theme was about "assisted dying" and "death with dignity." It was a thought-provoking film that made us think about what to do and how to convey our wishes regarding treatment and care based on our own values, what to expect when much remains unsaid or how to deal with uncertainties when these situations actually happen to people around us including ourselves.
With longer average spans nowadays, newspapers and the media have been talking about the importance of staying healthy, and people are really careful about diet and exercise. However, when it comes to end of life decisions, not everyone is aware of what various terms mean such as ending notes, living will, Power of Attorney, terminal treatments or palliative care, euthanasia and so on.
Last year on November 27, 2014 JSS and Momiji Health Care Society jointly offered a seminar titled "What You Should Know In Case of…. ; Power of Attorney for Personal Care and Property as well as Creation of Will" presented by Nozomi Smith, an estate lawyer. During the seminar, the importance of preparing documentations as well as designating a person who could act as your representative to execute your wishes were emphasized, in case you are no longer able to communicate them yourself.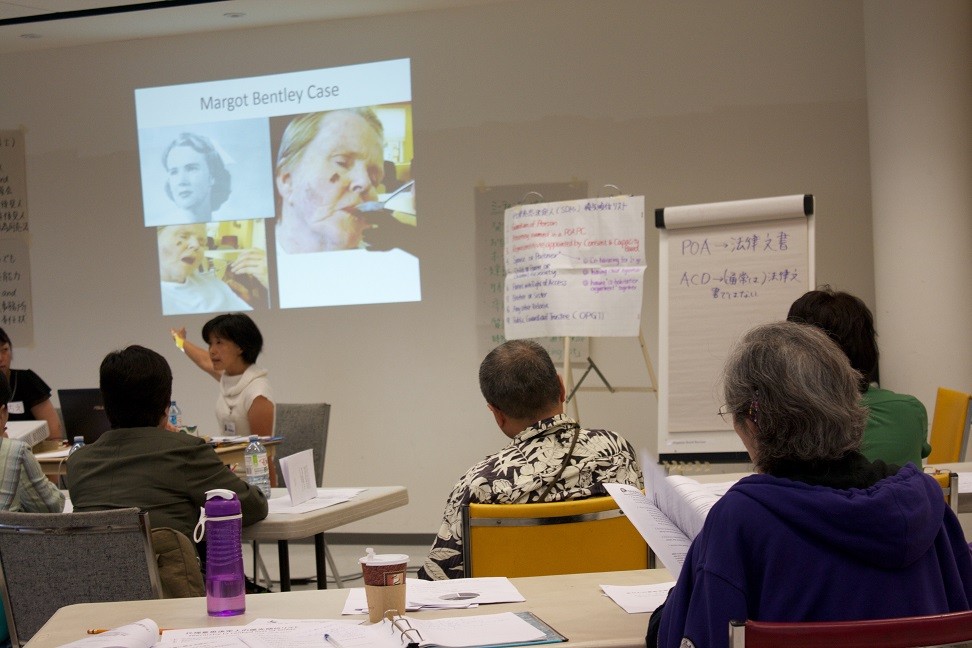 As a follow-up to that, this year on July 24, 2015 (Friday) from 1:00 p.m. until 3:30 p.m., a workshop called "Advance Care Planning — What You'd Like to Prepare Prior to Anything Happening" co-sponsored by the JSS and Momiji Health Care Society was offered. Ms. Yuka Okada and Ms. Keiko Hoshi from Momiji and Ms. Chie Takano from JSS facilitated the workshop with 21 people attending the session.
This time, even if you designate a Power of Attorney and create documentations such as 'Personal Care' and 'Property', the main theme was that you still need to prepare your plan in advance (Advance Care Planning) and create "Advance Care Directive" stipulating types of treatments and cares you would like to have based on your own values, as there is the likelihood of some choices being made different from your own intentions or desires.
Towards the end of the workshop, people were divided into several groups and participated in examining case studies and exchanged opinions.
The Advance Care Planning is not planning for death but rather it is a planning for the next stage of your life. It is a process about planning and discussing with your family members, people close to you, care-givers, and healthcare workers about future treatment and care.
What is included in the Advanced Care Planning (ACP) are as follows.
Advance Care Directive (ACD): A written document on what you would hope to have with regards to the care and treatment you'd receive
Power of Attorney for Personal Care (POA-PC): A person or persons legally appointed by you who will act as your representative to ensure your wishes are followed through.
And you convey your wishes and discuss them with those around you.
It is important that people designated as "Power of Attorney — Personal Care" of the above, are those who know their responsibilities as Substitute Decision Makers (SDM), know you well, and that they are the ones in whom you can place your trust.
Those who can become Substitute Decision Makers (SDM) are stipulated by the Health Care Consent Act, based on their relationships to the person, and are appointed in order of the priority by law.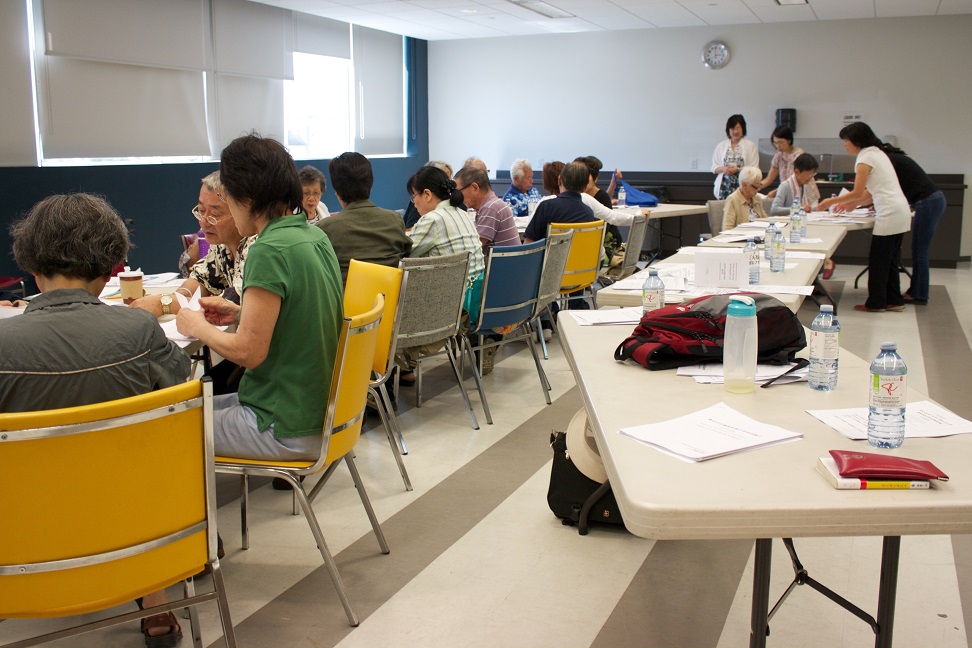 Nobody knows what would happen next. And if you do not want the life-sustaining treatments, when you become bedridden and too ill to convey your intentions, it is important that you'd already prepared for those occasions in writing or made it clear by discussing with your family members in advance as to "what you want."
You need to know your medical rights and the benefits and risks of those medical practices that often occur such as Resuscitation, Tube Feeding, and Ventilation. It is also important to keep track of accurate information on things like "Do Not Resuscitate Order (DNR Order) " and "Terminal Care (Palliative Care)" in case you need to make decisions related to those topics.
In Canada, suicide has been removed from being a criminal offence. Physician Assisted Dying has been illegal until recently; however, it is at a stage where Parliament has been studying the implications of "Physician Assisted Dying" in terms of legalization in the future. When you find out you're terminally ill and you've decided whether or not you'd like to receive life-sustaining treatments, how are you supposed to tell those around you about what to do, when you suffer from diseases that are not going to be cured. Also when you do not want to live suffering from excruciating pain, what are you supposed to do? In addition, when your family members or loved ones suffer from debilitating diseases or have had an accident, when being told that they'd rather die, how are you going to respect their wishes? When it's not clear or insufficient for the family members as to what they mean by not wanting "life-sustaining treatment, " family members will be at a loss or troubled regarding what to do or how to respect their desire, when it comes to deciding on types of treatments their loved ones would have preferred.
It takes an enormous amount of responsibility to be left with the last decisions before the death of a loved one. In order for everyone to come up with the decisions that they can all live with and have few regrets, it is important that you think and make end of life decisions while you are still healthy. Leaving a will, designating executors, making sure there will be a smooth transfer of inheritances, and making it clear as to what kind of treatments and care you want, ensuring those who are left behind can deal with matters smoothly and without any problems, they are all important matters. It makes sense to leave a will even if you are not wealthy, as sometimes funeral arrangements can be costly and those left behind may not have ready access to the funds that you have left behind.
The following is a comment by Harry Kawabe, who participated in the workshop with his spouse:
"We've learned that it takes a lot of preparation for departing and we should not take matters lightly, it is contrary to the way we had envisioned it as just a very simple matter of "saying goodbye and leaving for the next life" without causing too much trouble or hassle for our family members and friends. When it comes to choosing whom to consider as Substitute Decision Makers, we've found out that there is a legally designated priority list ranking nine different groups of people. We've also learned the importance of Power of Attorney, the issues of death with dignity, medical rights and so on. We're grateful that we were given an opportunity to extensively learn about Advance Care Planning."
NOTE: Another seminar "What you need to know about Power of Attorney — Personal Care and Proper and Creation of Will in Case of Necessity" will be offered again in Japanese only from 1:00 p.m. on Friday, September 18th, 2015 at the JCCC. Please call our office for more detailed information at 416-385-9200 or check out our flyer (in Japanese).