A Race Report: The North Face Endurance Challenge 80km
By Takanori Kuge, JSS Counsellor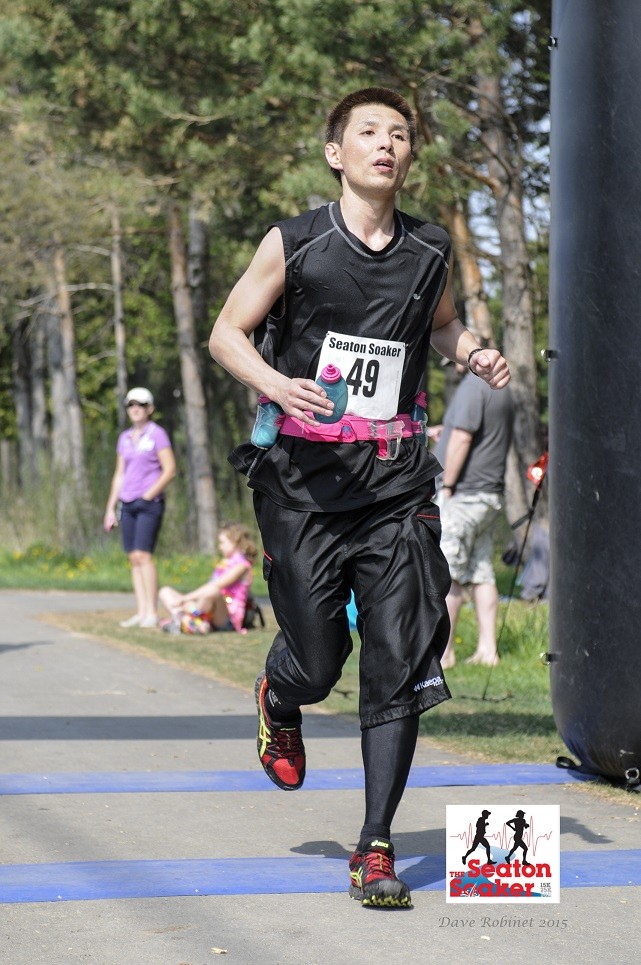 On July 18, 2015, I ran an 80km race called 'The North Face Endurance Challenge — GORE TEX 50 MILE' at the Blue Mountain Resort in Ontario. The course consisted mostly of mountain trails with many uphills and downhills including several ski slopes. This race features the trails with the most profound elevation gain in all of Ontario. Furthermore, this race is ranked as one of the hardest races held in the province.
My wife had enrolled me in this race as a birthday present. This was how the conversation went:
My wife: Wow! I found a very interesting race! I'll sign you up for the race as a birthday present from me! It's going to be an 80km race in the mountains!!
Me: Eighty-kilometre race in the mountains? A present for me? What???
I was not sure how serious my wife was, but found out that she was very serious about signing me up for this. Although I felt a quite a bit of hesitation and fear towards the race, I decided to join the race out of immense curiosity.
After two and a half hours of driving in the late hours of the night, I arrived at the Blue Mountain Resort around four o'clock in the morning. The participants of the race started gathering around the starting area. There were approximately 130 participants in this crazy race. Most of them seemed to be men in their 30s and 40s, but there were about 20 to 30 female runners. Just before dawn at 5 a.m. sharp, the race began.
Since I knew for certain that it would take more than 10 hours to finish the race, I ran at a reasonable pace in the early stage of the race. Nevertheless, I started feeling pain and fatigue in specific parts of my body such as my right knee and lower back, which bothered me quite a bit while running. By the time I passed the 40km point, there was no part of my body that did not have severe pain and fatigue. The pain and fatigue in every inch of my body made me numb, which means, in a sense, there was no identifiable pain. It was interesting that I could run very smoothly from 40km point to the 55km point.
After passing the halfway point, I experienced three serious injuries:
Chafing – started around 50km point, got worse and worse and ended in bleeding;
Vomit, head ache and dizziness due to heat injury/dehydration – started around 57km point and forced me to lie down for 40 minutes at an aid station and;
Shin-splint – occurred around 65km point and got worse and worse until the end of the race.
Although each injury was terribly painful, the final 15km from the 65km point to the goal, in which the above three injuries existed concurrently, was sheer agony. My average speed from the start to the 65km point was 8km/hour, which slowed down to 3km/hour in the final 15km. In the final 5 hours, I hobbled through from the 65km point to the finish line and experienced extreme thrill to have finished the race.
As the physical pain and fatigue in my body increased, the psychological conflict augmented. Probably due to my occupational habit as a psychotherapist, I really enjoyed objectively observing my psychological conflicts. While I was hobbling from the 65km point to the 72 km point those following conflicting thoughts were fiercely competing with each other:
"You've done way more than enough! You may retire from this agony now…" "65 out of 80 have been over now! It's going to be only 15km – KEEP GOING!" "If you don't stop now, your injuries will need a very long time to heal… You might not be able to play basketball for months…" "Even if you stop here, your injury is already too serious to play basketball for a while. So, keep going!!!" "For what am I doing this? How is this worth it?" "You could really die of heat injury and dehydration…" "You don't die so easily if you are still able to have misgivings about death." "In your counselling sessions, you often say, "Don't push yourself too much!" to your clients." "If you drop out of the race, the $90 participation fee goes to waste…" "Are you crazy? Are you going to die for $90?" "It takes courage to retire from the race. You will gain something important from dropping out of a race, too." "That is just a bull… Finishing the race is always better than retiring from it!"
I barely managed to make it to the aid station at the 72km point. It was around 4 p.m. , which meant I still had about 3 hours until the cutoff time. With my usual standard, it's "only" 8km, which I can finish within 45 minutes. For my severely injured and fatigued body and soul after running for more than 10 hours, however, 8km cannot be perceived as "only." It was not easy for me to decide whether or not I should keep going since I had no confidence or perceivable energy to keep moving for another 2 hours and a half to finish the race. Nevertheless, time kept going by. "Even if you keep going, you might not be able to finish within the cutoff time. You've done more than enough. You should stop now." Rather unexpectedly my heart was covered by this thought, and I told a volunteer staff at the aid station that I decided to retire from the race there, so I would need a car to go back to the start area.
A mixed feeling of relief, chagrin and disappointment rushed in, which made me cry and feel absent. While I was resting for 20 minutes, a few runners came to the aid station. Every runner was weary and shattered without exception. The third runner who came to the aid station was an elderly runner fully covered in mud. While chatting with him, I found out that he was 69 years old… He took two bad falls while going downhill, which was very slippery due to the rain shower. Naturally enough he was also wondering if he should drop out of the race to avoid worsening his injuries.
Inadvertently something came to my mind. "There must be almost no one who does not get injured in running 80km for more than 10 hours. In this race everyone keeps running in agony, which must be the true essence of these kinds of ultra races." In the next breath, I was telling a volunteer staff that I'd like to continue the race. Somehow I reached the sheer determination — "I don't have to finish before the cutoff time. Stop thinking, just go as far as I can! That is my new goal!" The determination completely eradicated my hesitation. Without hesitation, my steps became very light like magic, which made me realize the strong connection between the body and mind. I also realized that my calculative thought was one of the major causes of my hesitation in moving forward, which went "No matter how hard I try, it's going to be a fruitless effort if I cannot make it to the finish line before the cutoff time."
In this process, I unconsciously used a counselling technique of changing the goal that is hard to achieve to an achievable goal without changing the direction. It's impossible to fail to achieve the goal of going as far as I can. Finishing the race within the cutoff time became an added bonus
From then on my mind was filled with pseudo & super positive thoughts with a hint of desperation that went:
"What's wrong with fruitless efforts!? I'll make as much fruitless effort as possible!"
"I am enjoying the pain! This is an experiment to measure how much pain I can bear!"
"Chafing and shin-splints cannot kill me. Dehydration is all that I have to care about."
"It's kinda cool if got disqualified just before the finish line!"
"I'll praise myself if I can finish the race! And I will praise myself more if I can push myself until the point I cannot move any longer."
I learned that "pseudo positive thoughts" and false cheerfulness based on sheer determination can help activate the secretion of adrenaline. Although I had to hobble, I was able to run the first 5km from the 72km point. I was surely enjoying pushing myself further than my ultimate state. However, there seemed to be a limit to the adrenaline effects. At the 77km point, I had to stop and squat down on the ground due to the unbearable pain of shin-splints. But this time, the pain did not shake my determination. I took 2 tablets of ibuprofen, waited for 15 minutes until the medication kicked in and resumed the race.
I reached the final aid station that was 2km before the finish line. Although the pain of chafing and shin-splints was almost unbearable, there was no hesitation any more. "I'll keep moving forward as far as I can!" A good send-off by the volunteer staff made me start crying. I could not stop crying until the end due to the pain, the sense of relief and the sense of achievement that started surging within me.
At 6:15 p.m., my race that took 13 hours and 15 minutes finally ended. This race was totally different from past races in terms of the required time, physical and psychological fatigue and injuries sustained. Every aspect of this race was much harder than what I could have imagined.
The physical damage caused by this race was extremely severe. Although it has been three weeks since the race day, the shin-splint has not fully healed yet. However, I truly feel that what I gained in this crazy race was worth all the pain.
In the next issue, I would like to examine and analyze the reasons why I (and others) have taken up running as psychotherapists.