Junko Yamamoto
Concert Committee Chair
As I mentioned in the JSS Online Newsletter, April 2016 issue, JSS has invited the famous husband and wife pianists, Mr. Kikuo Watanabe and Ms. Estuko Terada from Japan to perform a classical piano concert on September 24th, 2016 (Sat.) at Glenn Gould Studio starting at 7:00 p.m.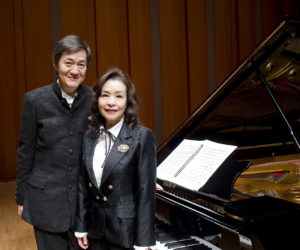 Mr. Watanabe and Ms. Terada's warm understanding of JSS's contribution to the Japanese community in the GTA has persuaded them to kindly agree to perform a charity concert for JSS. I hope everybody will enjoy the famous pieces by the renowned composers played by Japan's premier artists.
As I have already written their detailed biography in the previous issue, I will not repeat it here. Their most recent achievements were in May 2016. Ms. Terada held a piano concert to a full house at Kioi Hall in Tokyo.  There she played several of Chopin's signature pieces along with pieces by Schubert and Hayden.  At the end of May 2016, Nihon Philharmonic Orchestra (Nichi-Phil) celebrated it's 60 anniversary since its foundation, and the couple was invited to perform with the orchestra. There they played "Concert for two pianos, in E Flat Major, K365" by Mozart as well as other pieces.  From the beginning of August, they are staying in Bayern province, Germany and besides holding concerts, they also teach a master class to cultivate talented pianists of the younger generation.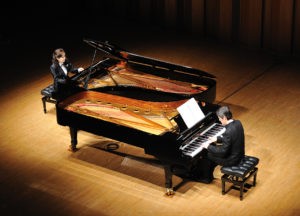 The concert on the September 24th at Glenn Gould Studio will be very unique due to the duo performance by husband and wife.  Glenn Gould has a reputation throughout the world for its excellent acoustics.  Having a capacity of 341, it is not regarded as a big concert hall, but because of its compact size, you will have an immersive experience of their performance as if they were playing the piano just in front of your eyes wherever you sit in the theatre.  After the concert, the performers will come out to the lobby to chat with the audience and this will also be a very interesting experience.
To purchase tickets, please go to jss.ca/charity-piano-concert and order online, or call the JSS office directly at 416-385-9200.  The price per ticket is $50.00 including HST.
I am really looking forward to greeting you on September 24th at Glenn Gould Studio.