PARENTING: EarlyON Child and Family Centres, wonderful resources for parents
PARENTING: EarlyON Child and Family Centres, Wonderful resources for parents
Meaghan Tanaka, JSS Board Member and mother of two little boys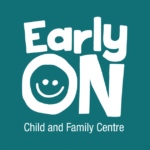 This past January, 18 months after bringing our first child home from the hospital, my husband and I welcomed our second child into the world.
My husband and I have decided that I will stay at home with the boys at least until they start kindergarten. I love being a stay-at-home mom.
Each day is filled with countless priceless moments that I try to capture by constantly taking photos and videos. My phone is filled with images of silly grins and recordings of carefree giggles. Take a closer look at any of these digital memories and you will see that in addition to joy and wonder, my days with the boys are also filled with mess, noise, and chaos. Comedian, Jerry Seinfeld said "Having a two year old is like having a blender you don't have the top for".
Running back and forth between a busy toddler and needy baby all day long is exhausting and exasperating. Some days the boys and I need to connect with people outside our family bubble.
They say it takes a village to raise a child. Unfortunately, in this age and especially in large cities, it is difficult to find a "village" for support. It is easy for a parent or caregiver to feel isolated and overwhelmed.
JSS has wonderful programs to support families such as "Raising Amuro Kids" for parents of children with developmental difficulties and the "Single Mothers Support Group". JSS also helps connect families to other resources. I am not a JSS social worker or counsellor, but as a parent I would like to share with other parents another fantastic resource: EarlyON Child and Family Centres.
I stumbled across EarlyON Child and Family Centres after going for a swim with our kids at a City of Toronto community centre. I was amazed when I learned there was a large room in the community centre devoted to a free drop-in program for parents/caregivers and their children from birth to six years of age. It was staffed by qualified professionals trained in childhood development who welcomed us to join fun activities such as reading, storytelling, sing-alongs and games. They helped us to connect with other families as well as other family services, such as Toronto Public Health programs.
I thought the centre was unique. I was overjoyed when I learned it was a province-wide program and that there was an EarlyON Centre around the corner from our home.
The EarlyON centre closest to us is ideal for our family. It is in the Toronto District School Board (TDSB) elementary school our children will attend when they are older, so our sons are becoming familiar with the school environment and meeting children who may be classmates in the future. The centre is even set up like a kindergarten classroom with a large collection of books, educational toys, and sensory activities for the children. The Early Childhood Educator who runs the centre makes each child and caregiver feel special and supported.
The EarlyON centre is a tiny parenting village. Most of the families who attend the centre attend daily. They come from different ethnic backgrounds and most of the caregivers are newcomers to Canada who are learning to speak English. Despite communication challenges, the caregivers — primarily mothers — have made important social connections and are extremely supportive of each other. The EarlyON centre provides the children opportunities to play with other children, take direction from caring adults other than their parents/caregivers, and participate in group activities.
There are over 290 locations in the Toronto area with varying schedules and activities. These Centres — located in City of Toronto community centres, TDSB schools, YMCAs, churches, and a myriad of other social service sites — were previously known under four different names: Ontario Early Years Centres, Parenting and Family Literacy Centres, Better Beginnings Better Futures Programs and family resource programs. All the centres and their programs are free of charge.
Look for the EarlyON signs around your community; you will be shocked by how many you find.
You can view Toronto locations and contact information here. If you are outside of Toronto visit www.ontario.ca/EarlyON to find a location near you.
Even if you do not have young children, tell your family and friends about EarlyON Child and Family Centres. They are wonderful resources.