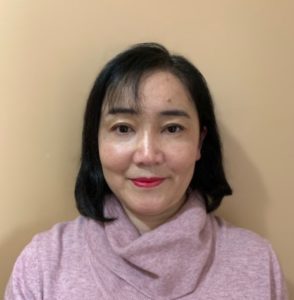 By Yuka Sato-Atiyota
It has already been  a year since we started using the word "pandemic". I am strongly hoping everyone is staying safe despite the extraordinary challenges and hardships imposed by this situation.  
First, I would like to express my sincere appreciation for your support to the 2020 Holiday Drive. I am very happy to inform you that it was a huge success this year again!  Please see "Big Thanks from Holiday Drive 2020 ( https://jss.ca/en/2020holidaydrive_thankyou/) for more details.  
As announced at the Annual General Meeting in August 2020, David Ikeda, our long-term president, retired. I am honored to inform you that I was appointed as the new president of the Japanese Social Services (JSS) as of January 14, 2021.  
Though I became a board member of the JSS in June 2019, my first formal participation in the JSS operational support goes back earlier to when I started providing clinical service supervision along with my co-supervisor, Ms. Akiko Okamoto. Like Akiko, my professional background is social work, with 20 years of professional experience in healthcare. After immigrating to Canada and started my new career as a new graduate, it was here, at the JSS, where I met other young professionals and great mentors with the same passion. It was here, in the craft club at the JSS, where I found some comfort and sense of community when my first job search wasn't going smoothly. Since then, I have always wanted to give back to the JSS someday. It was quite humbling to be invited to serve as a board member of the organization, and now to be appointed as the new president.  
Given my background as a social worker without strong knowledge or  experience in business, I have a great favor to ask all of you. Please kindly continue supporting the JSS financially through membership and donation. As you know, the JSS is a registered charity which largely relies on funding from governmental agencies, fundraising, donations and  membership fees. Due to the COVID-19 pandemic, we did not have the liberty of organizing fundraising events this past year. In order for JSS to continue providing much needed support services to the community, we need your help.  
On a personal note, it was through the JSS I was able to find an amazing housekeeper when my friend, a young Japanese woman, was fighting a terminal illness. It was a small but an essential support this friend needed, in order for her to live the remainder of her life with dignity. When I think of this friend, I am reminded of the huge impacts that JSS has been making on people's lives. Many of us in this community, including myself, immigrated to Canada from Japan and live far away from the support of immediate family and relatives. While I am mindful that JSS cannot possibly replace them,  I would like to try my best to be of at least some help to all of you who are  in need of help, with the talented and dedicated JSS team, comprised of my fellow board members, staff, and volunteers.  
I truly hope JSS remains a  place where all of you can come to seek support, casually and without thinking twice. Whether for school or work–related matters, for relationship matters with friends or family members, or for something else, almost everyone will  have a moment or two in their life when counselling support becomes needed. I had my moment when I was struggling as a university student – with language, interpersonal issues, and the demands of school work. I sought counselling, and it steered me in the right direction. It is not a sign of weakness to receive counselling or other support services. On the contrary, it is a sign of strength to recognize the need and seek help. I also hope, with great optimism, that JSS will continue to offer a space for all of you to share your knowledge, passion, talent, time, and compassion with others, and achieve a sense of great fulfillment together.  
I am looking forward to meeting each of you, and through our various activities and discussions  contribute to mutually enhancing everyone's personal growth, as well as  strengthening our wider community together. Please do not hesitate to reach out to me if you have ideas to share. I would appreciate your feedback and guidance.