PRESIDENT'S MESSAGE: A Special Message from David Ikeda
David Ikeda, JSS President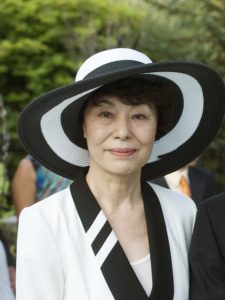 As a special way of expressing my thanks, I wanted to make sure that the following was not lost in the middle of my usual President's Message.
I want to express my gratitude, and indeed the gratitude of the entire JSS organization to Mrs. Junko Yamamoto for her many years of service to JSS.
Eight years ago, Mrs. Yamamoto and her husband Sam attended one of the Board meetings chaired by then President, Mr. Takeo Maekawa. I remember they both listened attentively to Mr. Maekawa's presentation and explanations about what JSS does for the community.
Shortly after the Board meeting, Mrs. Yamamoto joined the JSS Board of Directors. Both she and Sam pledged to give JSS $10,000 each year for the next five years, a donation of $50,000 in total. She also took on the task of Fundraising Chair. We had never had a Fundraising Chair before. Fundraising in the past had consisted of Toke Suyama and his amazing Toronto Challenge one-man show, as well as a few small-scale events such as the Hot Lunch program with the Wynford Seniors.
Mrs. Yamamoto organized the largest and most successful fundraiser we have ever had, the Piano Concert held in Fall 2016. She brought in world famous husband and wife duo-pianists from Japan to perform at a near full house at the Glenn Gould Concert Hall. Other notable events included Sam Yamamoto's 80th birthday party which Mrs. Yamamoto converted into a fundraiser for JSS that raised around $13,000.
For personal reasons Mrs. Yamamoto retired from the Board of Directors this year. And boy, do we ever miss her. However, she is still doing a lot of hard work for JSS. This summer she brought in an up-and-coming illusionist from Japan, Mr. Daiki Tanaka. She opened up her and Sam's home for a special show with all ticket revenue going to JSS.
I could go on, but space in this newsletter is limited. On behalf of everyone here at JSS, thank you Mrs. Yamamoto. We wish you health, happiness, and much needed rest.