Easy Yoga for Seniors (Online)
JSS Online Program
『Easy Yoga for Seniors』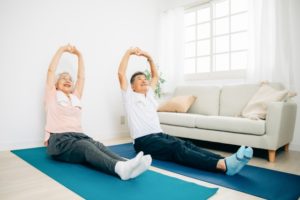 This program provides the seniors & pre-seniors (age 55+) the opportunity to enjoy the 60-min easy yoga session followed by the 30-min socializing time with fellow Japanese-speaking seniors.
One term consists of 6 weekly sessions; registration is required for each term. Term 15 ( Sep 15 – Oct 23 Mondays, 10-11:30 am) is open for registration (limited spot available).  
For more details and RVSP, please click the "日本語" on the upper right corner of this page. You can also contact the JSS senior yoga team (senior.yoga@jss.ca / 416-385-9200).