The Scotiabank Waterfront Marathon Successfully Completed
By Junko Yamamoto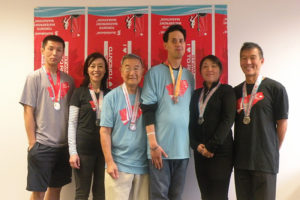 JSS Fundraising Chair
The annual Waterfront Marathon sponsored by Scotiabank was held on October 18th. We had very mild weather two days earlier. So I was hoping the weather would stay warm until the day of the marathon, but it did not turn out that way. One day before the marathon, we had snow for the first time this fall and on the day of the marathon, the temperature dropped down to 0°C, but it was beautiful for walking or running. The air was crisp with a beautiful blue sky and brilliant sunshine.
It was JSS' second year of participation, and we entered our counsellor Takanori Kuge, who ran the full marathon of 42km, as well as the President of the Board, Mr. David Ikeda who ran the half marathon of 21 km. Both of them completed their courses with ease. Our part-time counsellor, Ms. Junko Mifune, who ran the half marathon last year has not recovered fully from a hip condition since the summer and she had to switch from running to walking, but even then, she completed the course of 21 km. Our community outreach worker, Ms. Chie Takano challenged the 21 km course by walking for the first time along with Ms. Mifune. She bravely accomplished her target. To our pleasant surprise, Mr. Sid Ikeda (David's father) and Mr. Raymond Barall joined the event this year and both walked 5km. Since then they have been actively involved with fundraising for JSS. I am more than grateful to the JSS board members, staff, volunteers and all who worked so hard to make this charitable event a success.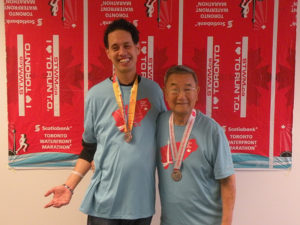 Because we were a bit slow in starting this year, I doubted that we could collect as much donations as last year but with the warm cooperation of the Momiji Healthcare Society, the Seventh Day Adventist Church, Toronto Buddhist Church and others, more and more pledges poured into the office. The total amount surpassed $8000.00 as of now. I am extremely thankful to our community for the wonderful support.
This charitable event does not finish at the end of the marathon. If you are interested in helping JSS' activities, you could help by sending a cheque to the JSS office or donate on-line.
Please go to https://jss.ca/en/toronto-waterfront-marathon/ and follow the instructions. If your donation is over $10.00, we will issue a tax deductible receipt.