REPORT ON EVENT: Summer Festival

The Halloween candy has been given out to the trick-or-treaters and the stores are already filled with Christmas decorations. The balmy weather of the summer is a distant memory, but the second Saturday of July stands out in the minds of the JSS Staff and Board Members.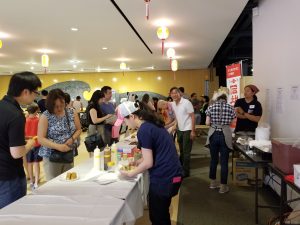 July 14 was the 2018 JCCC Summer Festival and as has been tradition for many years, JSS used the event to fundraise by preparing and selling food to festival-goers. The JSS Staff and Board Members who helped out at the JSS booth that day remember being amazed by the dedication and hard work of the numerous volunteers who donated their time on a summer weekend to help raise over $2000 for JSS.
Led by Rieko Chao, Junko Harada, and Keiko Tanaka, the volunteers cooked, cleaned, and served from the early hours of the morning until late into the evening. Many volunteers stayed longer than they had originally agreed to work and refused to take breaks.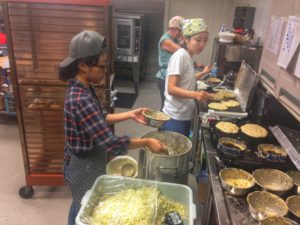 The grilled rice balls (yaki onigiri), pancakes (okonomiyaki), and octopus balls (takoyaki) that the volunteers prepared were incredibly popular with the festival-goers and everything was sold out by the early evening.
Thank you to all the volunteers who made the event a success and all the members and friends of JSS who supported JSS by visiting the booth.
We hope to see you all again next year!